Hauserlehütte
The Hauserlehütte is a rustic hut, which was built in 1938 and renovated in 2006. In the years 2015 to 2017, the current owners have renovated and integrated a large sun terrace.
The Hauserlehütte consists of 2 apartments that can be rented together or separately. The smaller apartment is on the ground floor and is about 35 square meters. The apartment is divided into 3 rooms. The largest room is the living-dining room with kitchenette which has a comfortable sofa bed. The second room is a bedroom with a bunk bed. Finally, there is the shower room with toilet and own hot water. In this apartment can accommodate 2 to 4 people. Of course you can make yourself comfortable here as an individual.
The larger apartment extends over the upper and attic and is about 85 square meters. Upstairs is the kitchen with the living room and a shower room with rain massage shower and toilet and underfloor heating and private hot water. In the attic there are 2 double bedrooms with sink and a chamber with a single bed and wardrobe. The sofa in the living room can be pulled out to a double bed, so that the upper apartment can accommodate 5 to 7 people.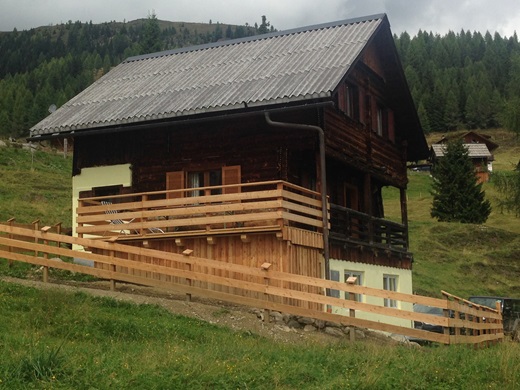 Hauserlehütte vulgo Hennemann/Kopp

Björn Hennemann und Holger Kopp
Emberger Alm 12
9771 Berg im Drautal
Telephone: +49 9621 3085246
E-Mail: petra.kopp@email.de